Solar Roof Tiles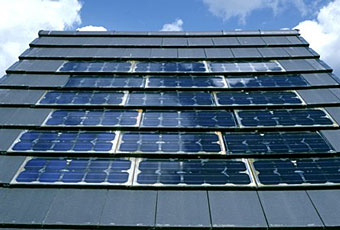 A fantastic recent innovation is the
solar roof tile
. Rather than put a standard tiled roof on a property and then fit solar panels on top of it, it is possible to purchase roof tiles with built in
photovoltaic solar cells
. These tiles can be used on new build properties, or incorporated into an existing roof during re-roofing. These tiles are designed to blend in with existing roof tiles whether they are interlocking concrete tiles, slates, or shingles. Each tile has a plug-in connector, and the tiles can therefore be simply wired together during installation.
As long as you have a south / south-east / or south-west facing roof which is not shaded by trees and/or large buildings, solar roof tiles offer a simple way to 'go green'.

Solarcentury
's
C21 solar roof tile
, isdesigned specifically for the
UK
housing market. It fits together with common interlocking roof tiles and so can be installed by any roofer. 200 standard tiles replaced with 40
C21 solar tiles
gives a 2kW solar system and costs between £8,000 and £12,000.
This system would generate at least 1,600 kWh (units) of electricity per year silently and without emissions. The tiles should last a minimum of
20-30 years
and will require minimal maintenance.

Click here to view Solarcentry's website.